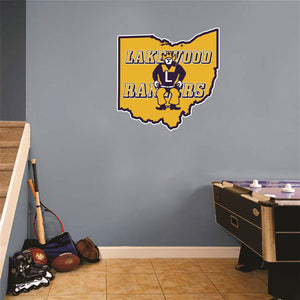 Lakewood Ohio Map Wall Mascot™ Version 1
Regular price $24.99 Sale
Show your City Pride!
Repositionable Wall Graphic for smooth indoor wall surfaces. Made of 5 Mil Vinyl.
Move or reposition as many times as you like.
• Adhesive Will Not Weaken or Strengthen Over Time 
• Green and Biodegradable
• Made of Woven Polyester
Make sure you measure your available wall space to get the appropriate size.
Recommended Surfaces:
Smooth Walls
Painted Drywall
Glass
Metal
Sanded Wood (without lacquer)
Inside, temperature controlled environments
NOT Recommended Surfaces:
Freshly painted walls. Wait 30 days after painting before you put up your decal.
Textured Walls
Unpainted drywall
Brick
Cinder Block
Porous, textured paneling
Outside, non-temperature controlled environments
Larger Wall Mascots available upon request.