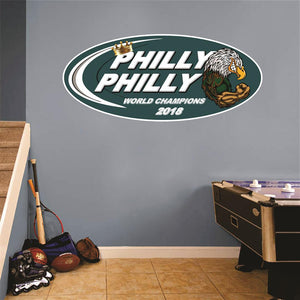 Philly Philly Eagle Wall Mascot™ 3 SIZE Options
Regular price $59.99 Sale
Show your team spirit! PHILLY PHILLY!!!
Repositionable Wall Graphic for smooth indoor wall surfaces. Made of 5 Mil Vinyl.
Move or reposition as many times as you like.
• Be advised: Anything left in one spot over long periods of time will become permanent , so be sure to re-position from time to time. 
• Green and Biodegradable


Make sure you measure your available wall space to get the appropriate size.
Recommended Surfaces:
Smooth Walls
Painted Drywall
Glass
Metal
Sanded Wood (without lacquer)
Inside, temperature controlled environments
NOT Recommended Surfaces:
Freshly painted walls. Wait 30 days after painting before you put up your decal.
Textured Walls
Unpainted drywall
Brick
Cinder Block
Porous, textured paneling
Outside, non-temperature controlled environments
Larger Wall Mascots available upon request
We include smaller GW wall mascots to test your surface, so be sure to try them first.